Bilingual Call Center Data Entry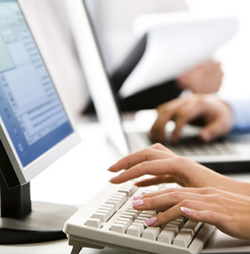 Costa Rica's Call Center is capable of supplying a large number of prequalified bilingual data entry clerks for your growing outsourced campaign. For smaller companies, we can arrange if needed, a temporary solution to put into use during a fast growth period. For larger BPO nearshore projects that require continuous amounts of data to be transferred, we are able to staff our Central American call center on a permanent basis depending on the size and scale of your outsourcing needs.
Offshore bilingual data entry for call centers requires a rigid concentrated focus as well as a reliable BPO structure to be truly effective and time sensitive. Spelling, punctuation and grammar skills are vital for accuracy, as is confidence in dealing with standard office equipment and the procedures attendant to each application. Many tasks still involve a thorough review of the initial results to confirm the accuracy of the data entered and to manually key in any missed or inaccurate information. Sensitive or vital information is examined multiple times during the call center process prior to being finally accepted and passed upon.
By taking advantage of the new outsourcing reporting technology and numerous internet applications during the past few decades, hand-written documents are becoming less common in the business world and have declined in modern times. Costa Rica's Call Center makes it easier for companies looking to use a nearshore center to focus their attention on tasks with greater priority and not invest the time, resources and capital on higher paying positions at corporate to enter one's own data.
Our highly trained bilingual call center agents can easily fulfill these tasks full time for a fraction of the price in the United States. Our Latin American outsourcing Data Entry department can input reference numbers, third party contact information, sales orders, inventory and supply reports, expenses and anything else that your company requires, documented and organized in either English or Spanish, or both.
Our offshore Human Resources Department specifically hires bilingual call center agents with proven prior data entry experience, without exception. All call center candidates must possess advanced skills in keyboarding and in the use of word processing, spreadsheet, and database management in order to join our BPO organization and work on any outsourced nreashore campaign.